Over at Jimmy Choos and a Baby too Top Two Tuesday is going on.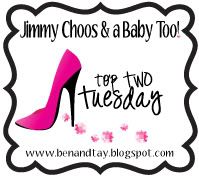 This week it is Top Two Fav Movies
I really love a lot of movies so it is hard to pick my top two. I love these two because I could watch them over and over and not get tired of either.
1. Armageddon
I don't care what people think. This movie is awesome! Action, comedy and romance all in one. I love the main Aerosmith song in the movie. Also, I cry
everytime
. Whenever it is on t.v. I can't seem to pass up watching it.
2. Say Anything
I love 80s movies and this one is my all time favorite. I heart John Cusack. Once again I love the song "In Your Eyes" by Peter Gabriel (Can you tell I love music!). Its a sweet story about a guy determined to get the girl.